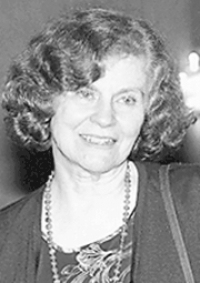 Anne Nicol Gaylor was born in 1926 near Tomah, Wisconsin. Along with her daughter, Annie Laurie Gaylor, in 1976 she co-founded the Freedom From Religion Foundation (FFRF), and remained its president until 2005. Under her tenure, the foundation won high-profile legal victories for church/state separation, including overturning a state law in Wisconsin that made Good Friday an official holiday, and ending Christian indoctrination in Tennessee public schools. She grew FFRF's rolls from 3 to over 19,000, with members in all 50 U.S. states and Canada. Her daughter Annie Laurie and son-in-law Dan Barker took over leadership in 2005 as co-presidents of the organization, and they continue FFRF's tradition of fierce advocacy on behalf of secularism at the federal, state and local levels.
Less well-known is that the same year she co-founded FFRF, Gaylor also co-founded another nonprofit: Women's Medical Fund. The fund provides small grants ($200 on average) to those unable to pay the full cost of an abortion. For over 35 years she has been the sole volunteer, answering every desperate call personally to the tune of some 800 women and girls every year, and writing every single check — almost 20,000 to date. With donations coming from individual donors as well as charitable foundations, the fund has paid out nearly $3 million toward abortion services for those who cannot afford them. Before starting the fund, Gaylor had been an abortion rights advocate for at least a decade: in 1967 as editor of the Middleton Times-Tribune she penned an editorial calling for Wisconsin to legalize abortion. (First-trimester abortions subsequently became legal in Wisconsin in 1970.)
Sadly, the kind of abortion advocacy Gaylor pioneered is every bit as necessary today as it was decades ago, as the deadly onslaught against women's autonomy has only accelerated in recent years. Wisconsin is one of the worst states in this regard: 93 percent of Wisconsin counties presently have no abortion provider, and the state has enacted pretty much the complete suite of draconian laws, including biased counseling required by physicians and a mandatory 24 hour delay, parental consent requirements, prohibition of private insurance coverage for abortion, insidious TRAP laws and prohibitions on public funding. Indeed, it was her work on abortion rights that led Gaylor to turn her focus to what she saw as the root cause of so much sexist oppression: religion. Women's rights groups were (and to a large extent still are) loathe to confront the god-shaped elephant in the room: that is why Anne Nicol Gaylor founded the Freedom From Religion Foundation, which has since generated countless benefits to secularists of all stripes. For many feminists including this author, the path that leads to non-belief and secularism is paved by feminism—every step of the way. Perhaps movement atheists who genuinely desire to grow their numbers would be wise to take note of the well-worn road so many of their potential allies take to find them, and put up some "welcome" signs along the way?
As you might imagine, over the decades Gaylor's activism has generated some pushback. She was discussing her 1975 book Abortion is a Blessing on a Philadelphia talk show when an audience member rushed her from behind and put her in a chokehold. (Just like Jesus would do, no doubt.) More recently, an article about her work in The Wisconsin State Journal prompted histrionic responses condemning her. Here, for instance, is an excerpt from a piece by a certain weasel of the Catholic Deacon species:
"What Anne Nicol Gaylor is doing is Evil. It should not be given the legally favored status of a 'Charity' under the law. It is more akin to a War crime. After all, there is an undeclared War on the Womb and she is helping to fund it by writing checks."
Then there was this one in a Milwaukee paper from "generally a right-wing guy" who refers to Gaylor as "Sweet little old Granny Blood-Money." He is "astonished" and "horrified" at Gaylor's heroic work:
"One donor last year, a California woman who'd in the past given to the anti-religion group Gaylor used to lead, forked over $20,000, based presumably on Gaylor's fund-raising pitch, which tells of helping girls pregnant at 12 or a girl raped by her father.

Both, of course, are horrible situations, almost as horrible as being not merely pregnant but chopped into little pieces and not at 12 but at a much, much more vulnerable age. After all, being killed by a choice-armed mother is much less tragic than being raped by monstrous father, yes?

No, actually. It's not."
Unlike the generally right-wing guy, informed and compassionate people like Anne Nicol Gaylor fully understand that one thing that actually is worse than than being raped by a monstrous father is being forced to have one's monstrous father's child. These hypocrites—who it goes without saying would never condone anyone harvesting their own blood or organs without their consent—probably know even less than Richard Dawkins does about the tragic consequences of childhood sexual abuse. But Anne Nicol Gaylor knows. And she has fought tooth and nail to ensure that victims do not have their pain and misery compounded because of exactly this kind of unthinking, unfeeling religious nonsense.
Gaylor has been the recipient of many honors and awards, from the American Humanist Association's Humanist Heroine Award in 1985 to NARAL Pro-Choice America's Tiller Award in 2007. She is also a sharp, witty and engaging writer, and many of her works can be read online for free at FFRF. At 88 years old, Anne Nicol Gaylor is president emerita of FFRF, and still works there as a consultant. While we cannot say the same for any generally right-wing guys, we can say unequivocally that our world is a far, far better place for having her in it.