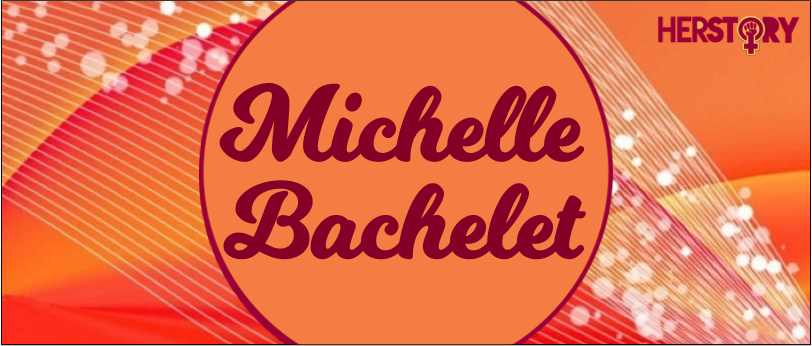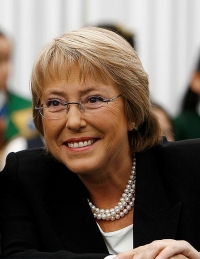 Michelle Bachelet was born September 29, 1951 in Santiago, Chile, to an archaeologist mother and Chilean Air Force General father. In high school, Bachelet participated in theater, volleyball and choir, and became her class representative and president. She attended the University of Chile for an education in medicine, and during Salvadore Allende's government, she participated in the Socialist Youth movement. General Pinochet, supported by the US Central Intelligence Agency, led a coup in 1973 against the democratically-elected Allende government, for which Bachelet's father worked. Bachelet watched the bombing of La Moneda Palace from the roof of her medical campus, and later that day learned that her father had been arrested for treason. Her father died in prison a year later as a result of torture. Instead of intimidating Bachelet, this event motivated her to become even more active in Chile's Socialist Party, and she began hiding people wanted by Pinochet's regime. In 1975, Pinochet's secret police arrested Bachelet and her mother, separated them, and submitted them to interrogation and torture. Bachelet and her mother were exiled to Australia after about 20 days of detention, and from there moved to East Germany, where Bachelet attended medical school in Berlin. While in Germany, Bachelet studied German—increasing her number of fluent languages to five—and married an architect and fellow Chilean exile. They had two children together.
Bachelet and her family returned to Chile in 1979, and she graduated from the University of Chile as a surgeon in 1982. While the dictatorship was still in place, Bachelet's job applications were mostly rejected "for political reasons," but she found work in pediatrics and public health. At this time, she participated in many political organizations that worked to restore democracy in Chile. She separated from her husband in the late 1980s, but could not divorce him until divorce was legalized in Chile in 2004. When democracy was restored to the country in 1990, she began work as a epidemiologist in Santiago, which led to work in the National AIDS Commission and consultation work with the World Health Organization and the Pan-American Health Organization. She joined the Health Ministry in 1994, and graduated at the top of her class in military strategy at the National Academy of Strategic and Political Studies. She then took a course on Continental Defense at the American Defense College in Washington, D.C., in 1997. Upon return to Chile, she was immediately hired in the Ministry of Defense. She joined the Socialist Party's Political Committee from 1998 to 2000, at which time she was named Minister of Health, a position responsible for managing 70,000 employees and supervising the entire country's health care system. As Minister, Bachelet extended medical and dental coverage to all patients in the public health system, founded the Healthcare Research Council and laid the groundwork for the National Commission on the Protection of the Rights of Mental Health Patients. She also increased drug coverage for AIDS patients, and those suffering from depression and schizophrenia. In 2002, President Lagos named Dr. Bachelet the head of the Defense Ministry, making her the first woman in Latin America to hold such a position. In 2004, Dr. Bachelet announced her bid for president. A final election runoff was held in January 2006, and she won with 53.5% of the vote—making her the first woman to hold Chile's highest office. President Bachelet, whose cabinet is half female, has endured much criticism for her open agnosticism and secular reforms, such as making the morning-after pill free at state-run hospitals, an act which infuriated the Roman Catholic Church. As reported in the Washington Post, Bachelet said, "I'm agnostic . . . I believe in the state" ("Female, Agnostic and the Next Presidente?" Dec. 10, 2005). In November 2009, following her outstanding handling of the economic crisis, Bachelet's approval rating broke records at 80%.
"I was a woman, a divorcee, a socialist, an agnostic . . . all possible sins together."
—-Michelle Bachelet, on why she was an unlikely contender for president of a strongly Roman Catholic country, in "Socialist Bachelet wins Chilean presidency," USA Today, Jan. 15, 2009
Compiled by Noah Bunnell
This profile was provided courtesy of the Freedom From Religion Foundation.
© Freedom from Religion Foundation, Inc.
All Rights Reserved.