Portrait of Andrew Sullivan
by Iris Vander Pluym
oil on canvas, 30 ft. x 50 ft.
$10 million
[TRIGGER WARNING: discussion of sexist, racist and other problematic language.]
Friends, I am sorry to report that FREE SPEECH™ is, for all intents and purposes, dead. And not just in Dawkinsland either, where Richard and his fellow…what's the word?… "rationalists" I believe they call themselves, are at this very moment cowering in abject fear of no exaggeration witch hunts, actual Inquisitions and literal Orwellian Thought Police. As I'm sure we can all imagine, that is exactly what it is like being rebuked for saying factually wrong or long-debunked shit on Twitter—or worse, being informed that you've just said something harmful to people who are not you. Can you even imagine? Thankfully, Dawkins & Co. keep on bravely fighting the good fight for FREE SPEECH™ for all of us, by brilliantly deploying the tried-and-true tactic of repeating rape culture tropes that have plagued sexual assault victims for millennia. THOUGHT EXPERIMENTIN'! BREAKIN' TABOOS! PHILOSOPHIZIN'! 'SPLAININ' LOGIC! If that doesn't make feminists shut the fuck up, surely nothing will. I mean, what is the point of even having FREE SPEECH™ if other people are going to actually criticize things you say?
But this terrifying campaign of violent censorship has now gone far beyond even that. Andrew Sullivan, "conservative-libertarian" columnist, reports with alarm that "The SJWs Now Get To Police Speech On Twitter." For the uninitiated, "SJW" stands for Social Justice Warrior, i.e., a person who advocates for equality and against bigotry and oppression with respect to race, gender, sexual orientation, class, etc. (Believe it or not, SJW is actually meant as derogatory slur.) So what exactly are these jack-booted thugs doing to end FREE SPEECH™ on Twitter?
Well, a group called WAM! (Women, Action & the Media) has just entered into a pilot program in collaboration with Twitter intended to address the epidemic of gender-based harassment and abuse plaguing the platform. The purpose is to "learn about what kind of gendered harassment is happening on Twitter, how that harassment intersects with other kinds of harassment (racist, transphobic, etc.), and which kinds of cases Twitter is prepared (and less prepared) to respond to." WAM! will work with Twitter to track the data and improve their responses. The way it works is pretty straightforward: if you're being harassed on Twitter, you fill out this form on the WAM! site. Once they verify your information, they escalate it a.s.a.p. directly to Twitter, and try to get you a quick resolution. WAM! makes clear right on the form that they can only advocate: they have neither the authority nor the ability to make decisions or take any action on behalf of Twitter.
Just to be clear: we are not talking here about hurt fee-fees because somebody tweeted something mean at me and now I haz a sad. We are talking about relentless threats of violent rape and gruesome death, some credible enough that recently at least three women have been driven from their own homes. We are talking about violations of federal law under 18 U.S. Code § 875(c), which provides that "Whoever transmits in interstate or foreign commerce any communication containing any threat to kidnap any person or any threat to injure the person of another, shall be fined under this title or imprisoned not more than five years, or both." In New York State, we are talking about a class A misdemeanor under § 120.50(3), or depending on the circumstances, possibly a class E or D felony. In a case like Zerlina Maxwell's, we are also talking about a hate crime subject to enhanced sentencing. And more to the point, we are talking about violations of Twitter's own terms of service, which Twitter itself has proven unable to enforce.
This is the FREE SPEECH™ hill that Andrew Sullivan is prepared to die on.
If you think about it, it's actually kind of shitty that a nonprofit like WAM! has to step in and do this work for Twitter (to say nothing of local, state and federal law enforcement). But to Twitter's credit, this certainly represents a step in the right direction, and one with the potential to lead to in-house reforms.
But not for Andrew Sullivan. Oh, no. He is filled with the foreboding sense that this unholy alliance between WAM! and Twitter portends the end of FREE SPEECH™ as we know it. In his mind, "Twitter has empowered leftist feminists to have a censorship field day." And Sullivan does not like these lefty-feminists one bit, no siree! So much so that he imagines—naturally based on no evidence whatsoever—that WAM!s actual Sooper Seekrit Agenda™ is ultimately enforcing "gender quotas for all media businesses, equal representation for women in, say, video-games, gender parity in employment in journalism and in the stories themselves." Gender quotas! LOL! Also: simply stating the demonstrable fact that straight, white males have overwhelmingly dominated public discourse is disparaging straight white males as a group. And sure, WAM! may say their mission is to advocate for the inclusion of more diverse and historically marginalized voices in media, but Andrew Sullivan ain't buying it: "WAM can get to advance their broader ideas about policing the speech of white straight males by this legitimizing alliance with Twitter." WAM!'s real goal, he knows, "is to police and punish others for their alleged sexism." Never mind that, again, WAM! cannot censor anything, anywhere (except their own web site). Twitter is "handing over the censorship tools to a radical activist group bent on social transformation."
Obviously, if these terrible lefty feminist censors are not stopped pronto, next thing you know straight white men will be the ones fleeing their homes in fear for their lives. Just like Richard Dawkins.
Seriously, though, the whole rant is wildly entertaining. "Instead of seeing the web as opening up vast vistas for all sorts of voices to be heard," he writes with comical cluelessness, "they seem to believe it is rigged against female voices." D00d. In case the fourth paragraph of this very blog post did not adequately demonstrate for you that the web is quite clearly "rigged against female voices," a recent Pew research study found that (a) women overall are disproportionately targeted by the most severe forms of online abuse, (b) 25 percent of young women have been sexually harassed online, and (c) 26 percent have experienced stalking.
And guess what else? Queer women, women of color, trans women and women with other marginalized identities are especially targeted and abused. Sullivan quotes WAM!'s Jaclyn Friedman:
"I see this as a free speech issue," Friedman said. She said she knew some would see the work WAM does as "censorship," but that a completely open and unmoderated platform imposes its own form of censorship. It effectively prevents women, especially queer women and women of color, from getting to speak on the service.
Behold, his insightful retort:
How exactly? Does Twitter prevent women of color from using the service? Or is it simply that WAM believes that women cannot possibly handle the rough-and-tumble of uninhibited online speech?
Yes, that must be it: it's feminists who believe women are delicate flowers who cannot possibly handle the "rough-and-tumble of uninhibited online speech." Like routine rape and death threats, doxxing (releasing private information such as home addresses, phone numbers, employer, etc. in order to get people to harass women offline, too), libel, hate speech, revenge porn and all sorts of other "rough-and-tumble," "uninhibited online speech" Sullivan is apparently so invested in protecting. FREE SPEECH™, y'all.
Then he says:
I can find no reason to oppose a stronger effort by Twitter to prevent individual users from stalking or harassing others –
Okay! That's fantastic. We're all on board, then.
but
Uh-oh…
if merely saying nasty things about someone can be seen as harassment,
It can't. Because that's not actually what the word "harassment" means.
then where on earth does this well-intentioned censorship end? Is it designed to censor only misogyny and not racism?
No, dear. It's designed to curtail harassment and abuse. And it's starting with misogynist harassment and abuse, albeit with an intersectional focus (racism, transphobia, etc.). FYI, the group is called Women, Action & Media.
What about blasphemy?
Let's see. I just tweeted this: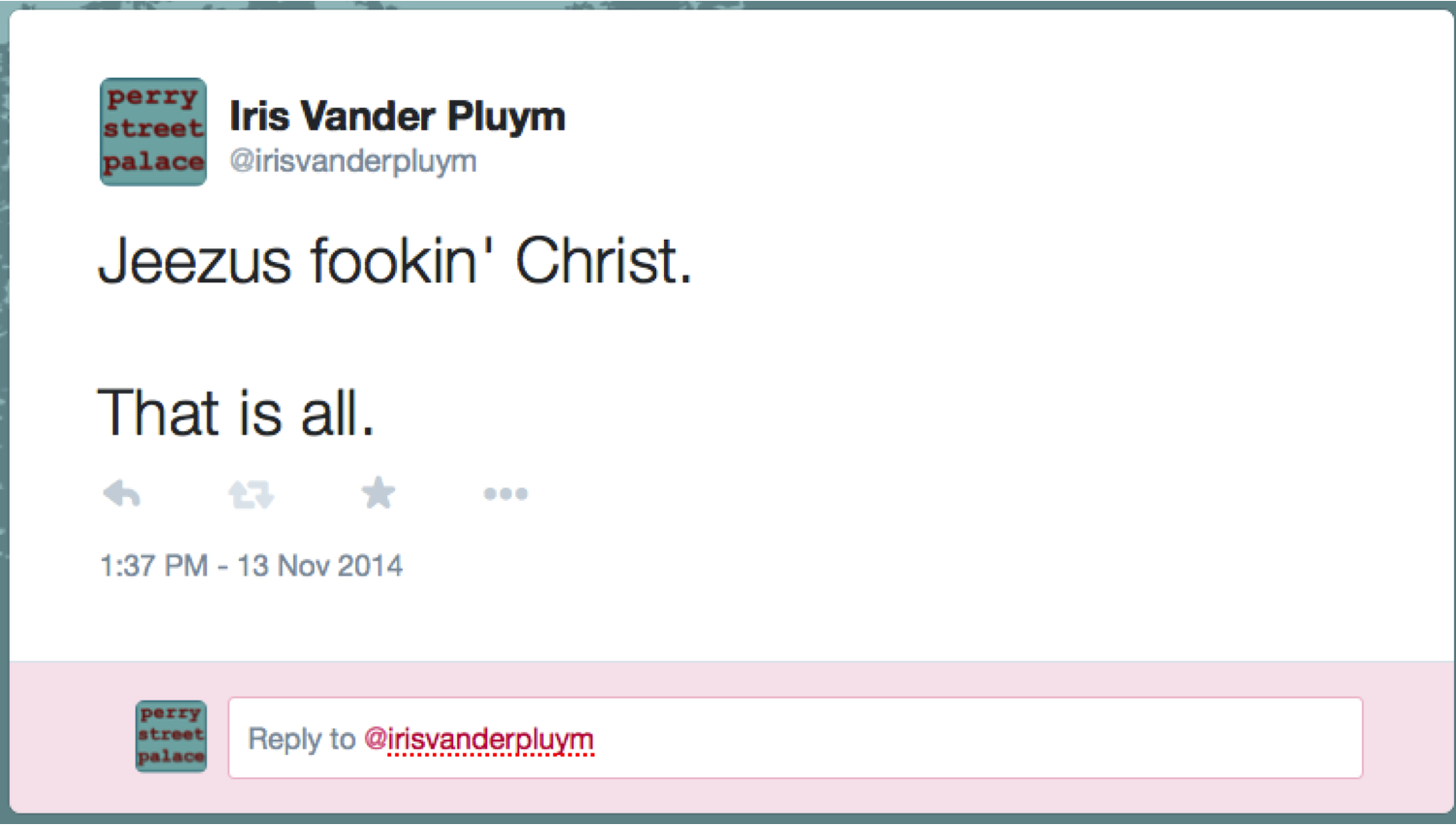 "Jeezus fookin' Christ.
That is all."
-@irisvanderpluym
I await the terrifying Feminazi Stormtroopers who will be smashing in my door any minute, and dragging me away to be burned at the stake with all the "rationalists."
Of course no one wants to prevent Andrew Sullivan or anyone else from embarrassing themselves on Twitter. I mean, what would we do around here all day without conservatives providing a steady stream of hilarious blog fodder? Unfortunately, how these nefarious evildoers at WAM! will accomplish all of their evildoing by forwarding misogynist harassment complaints to some people at Twitter is left unstated by Sullivan. But I'll definitely be bringing it up at next week's regular meeting of the White-Straight-Man-Hating Social Justice Warriors For Censorship and World Domination™.
[cross-posted at perry street palace.]