FOR IMMEDIATE RELEASE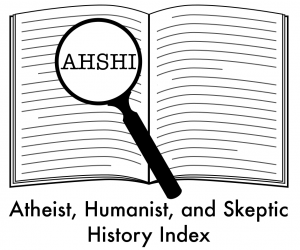 Finding our History: Indexing the Skeptic, Humanist, and Atheist Movements
A new project from Secular Woman
Bainbridge, GA November 13, 2015 — If you have ever wondered about the history of skepticism, humanism, and atheism in the U.S. and hoped for a place to find such information, that resource is coming soon! We are excited to announce the launch of the Atheist, Humanist, and Skeptic History Index, a project that addresses that gap. The Index will catalogue information from publications of our movements and other sources so that they can be easily found by anyone interested in that history. We are thrilled that writer and activist Stephanie Zvan will be heading the project as the administrator. She was motivated to begin this project because "the U.S. atheist movement has always been in dialogue with our larger culture, but many people prefer to pretend all our history is religious history. I want to make that harder for them."
Ours is a rich history in the U.S., stretching back prior to the American Revolution and continuing through today. From historical figures such as the writer and civil rights activist James Baldwin to suffragist and abolitionist Elizabeth Cady Stanton – atheists, humanists, and skeptics have helped to shape the social fabric of United States. Unfortunately, our history is often obscured or not well documented; this is especially true of humanists, atheists, and skeptics who are also part of a disenfranchised group, such as black people or women. This project will be working to make information on these movement figures, events, and publications more widely accessible, lifting the curtain to usher in this history from obscurity.
To ensure that the archive is of high quality and well-organized, there will be project administrators and volunteers working on its different aspects. Donations to this project will go toward supporting administrative staff. We're currently raising funds to cover the costs of initial set-up, contacting and coordinating with other organizations, and indexing of over 200 issues of the American Atheist Magazine that are publicly available.
This project will be pulling from the archives and websites of organizations in these movements that have already begun their own catalogues, as well as adding new information as we find it. And as it continues it will be focused on identifying existing relevant periodicals (such as those that profile movement figures), legislation and court cases related to or brought about by these movements, events, and other related historical records of note. The index will take shape on a wiki platform so it will be simple and accessible for users and volunteers.
Secular Woman board member and project lead Monette Richards is particularly excited about how this project fulfills our mission, Richard's points out that "the works and accomplishments of women are often left unwritten. We would be failing our mission to raise the voice of secular women if we allowed those voices to be forgotten."