Ania Bula is an artist and member of Secular Woman. You can shop for her items at Ania Onion Creations. She will also have a table at Women in Secularism 3 where you will be able to view and purchase her work.
SW: What is your creative background?
AB: I became interested in art in part due to my best friend when I was 5. She was five years older than me and I worshipped her. I wanted to be just like her, and so I started drawing and sketching. I got pretty good over time, and particularly got interested in sketching portraits. I also dabbled in painting to feel closer to my aunt Grazyna in Poland, who is a celebrated artist. This past Christmas, since we were desperate for money and really couldn't afford to get everyone great gifts, I decided to paint some simple wooden boxes with Fantasy themes and give those away. I had a great time and people seemed to love them, so I decided to try selling them. After that it was only a matter of time before I moved over to canvas and started painting more than just boxes.
In addition to my visual art, I have also always been a writer. I used to tell stories even as a child and always promised myself that I would write books. I am in the editing process of my non-fiction work "Young, Sick, and Invisible: a Skeptic's Journey with Chronic Illness" which is a book detailing my life with disability as well as essays on the intersections of feminism and atheism with disability justice. I am also working on a Fantasy themed novel which I hope to actually get done someday.
Although I did study English literature at university, I never officially studied art.
SW: What is the inspiration for your work in your Etsy store (Ania Bula Creations)?
AB: I get inspiration from a lot of different sources. A lot of ideas come from when friends post photos and my mind immediately creates some sort of fantasy portrait from it. I also get some of my ideas from fantasy novels I read, as well as just ideas that pop into my mind. I like making people think and also breaking some accepted ideas. For example, a lot of portraits, especially in fantasy, deal with white characters. While some of my portraits do have white female models, I am also working on finding a lot more women of colour and using them as models for my work. To wit, this portrait of Heina Dadabhoy

and this one of a woman whose picture I found at a PoC slam poetry night.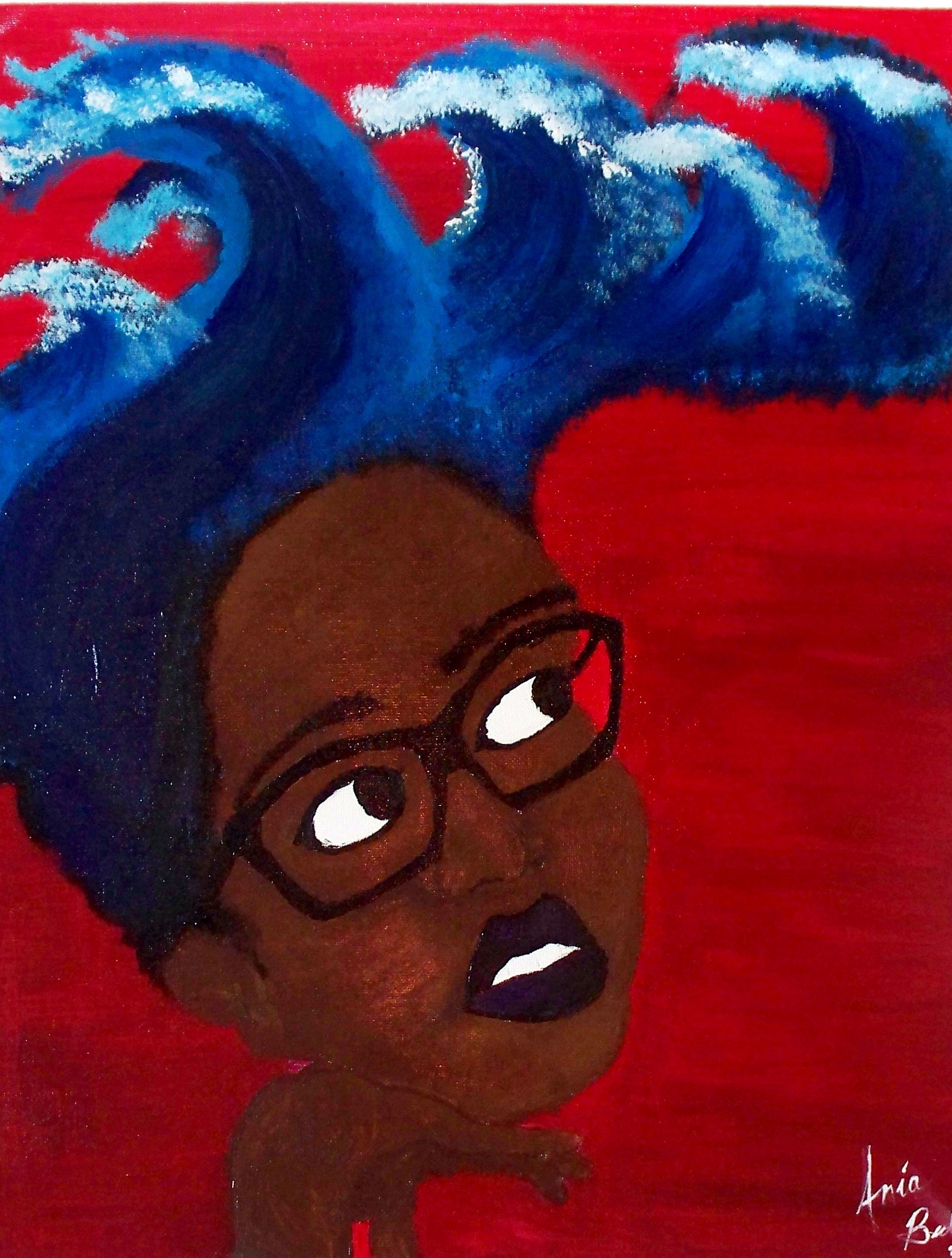 SW: How does your secular feminist perspective impact your creativity and final product?
AB: I like to subtly critique religion in a lot of my work. One painting is of an angel holding an apple with fire in his hand, on a sunrise background. To general appearance, the painting looks like just an angel, but knowledge of religion paired with the title light-bearer would let those familiar with abrahamic religions realize that the subject is actually Lucifer, God's Light Bringer and the Devil.
I have another painting with a woman wearing a blind-fold made entirely out of bible pages.
A lot of my models for my fantasy paintings are secular women who do a lot of great speaking and social justice work. I love creating something beautiful using these incredible women. I also want to create more artwork that celebrates the amazing women in our community. I also love having religious paintings and fantasy paintings in the same exhibition, to show how the two are ultimately from the same source: human inspiration.
SW: What are you most looking forward to about Women in Secularism 3?
AB: I am definitely looking forward to the amazing talks and also the atmosphere of people who understand the need for social justice. I learn something every time I am there and it often feels like a safe space. What I am looking forward to the most however, is the chance to see some of the people I love and care about in person. I don't get a chance to see them in person very often and this conference is one of the few places where I can.
SW: I understand you are tabling at Women in Secularism 3, can you give a sneak peak of what you are bringing?
AB: I will be bringing everything that you can see in my Etsy shop. I am also trying to get some money to be able to print some of the paintings onto t-shirts. I am also making some soaps, lotions, and fizzy bath bombs. I am also looking into getting some note cards and buttons printed up. If you are going to WiS and you want to make sure that a T-shirt is available, you can order on Etsy (https://www.etsy.com/ca/shop/AniaOnionCreations) and save on shipping by using code WISROCKS and pick up the order at the event. I would need the order ASAP. You can also donate to my fundraiser to help me earn money for T-shirts here: http://www.gofundme.com/8zanyc
SW: What other projects are you working on? [if nothing, let's not include this one]
AB: I would like to do more paintings of secular women in fantasy settings. I am prevented from doing as much as I want based on my money situation. Art supplies cost a lot of money, so until sales pick up I am limited in what I can do.


I also want to finish a fantasy novel I am working on where the main character is a woman who has a mild disability and a bisexual man of colour.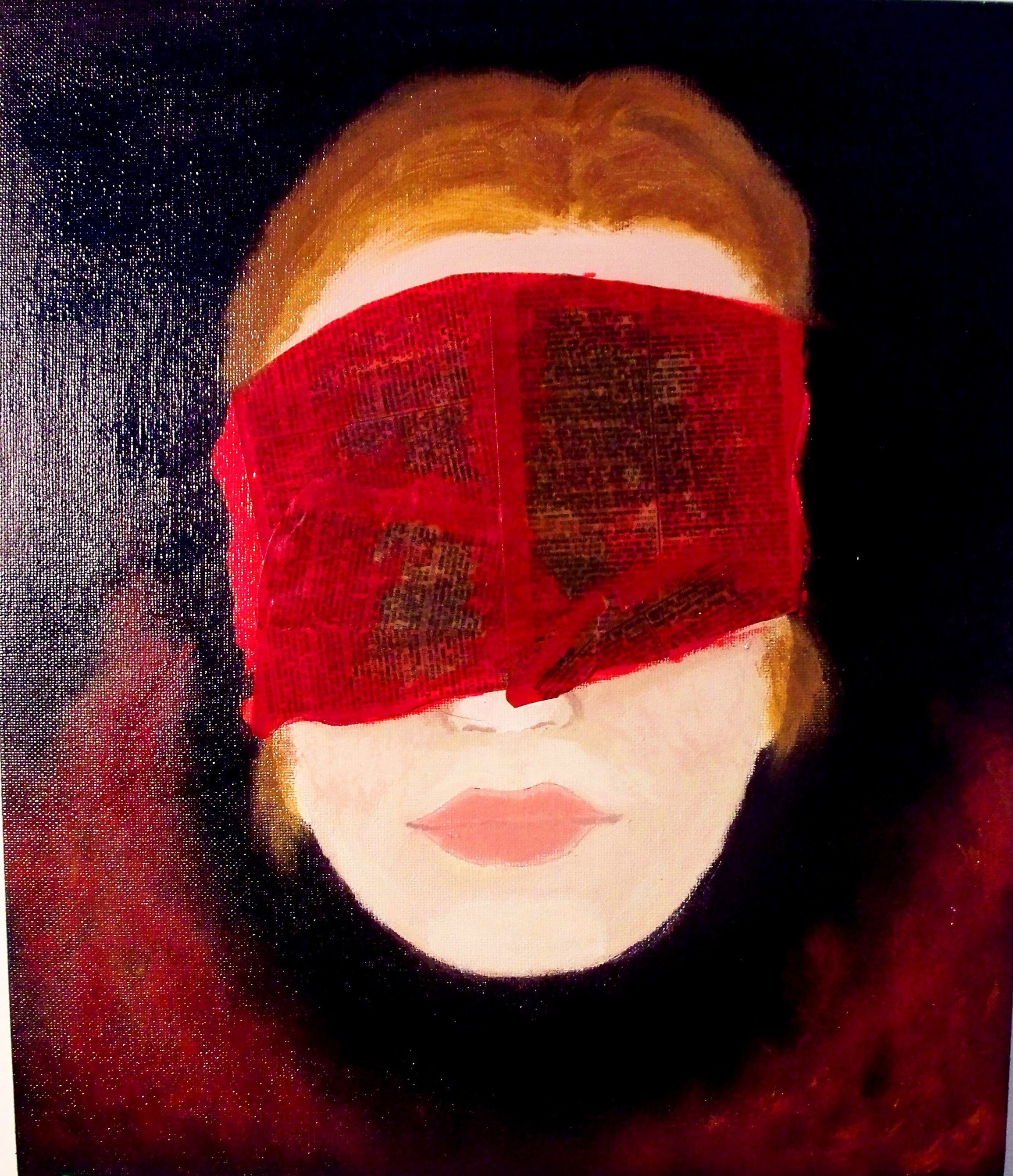 SW: What inspires you?
AB: Everything! A lot of my inspiration will come just as I am falling asleep, while I am reading a book, or even from other paintings I just finished. Sometimes when I am working on an idea, I come up with different versions of it, which I want to try. I choose my favourite as my first attempt and save the ideas for later when I have time and money to explore further. I get inspiration from my writing as well. Sometimes a story I am working on will have a really interesting visual that I want to paint.