SW: How did you get started making ceramics?
ADR: I first began working in clay by helping my mother, Charlene. At the time, my mother had a small home business that made porcelain awards for horse shows. I was really, very influenced by her work even though I probably didn't know it early on. Her highly detailed work has without a doubt influenced my artwork today.
As a young woman I opened an art gallery in North Hollywood, California. During the time I had the gallery I began making and selling small ceramic necklaces. Unfortunately, I had no idea how to run an art gallery and after a short stint and an unfortunate series of events, I ended up literally bankrupt. I had no car and no place to live. I had failed.
I got very depressed and I stopped making art.
A year or so passed by.
Then, I got a job as a waitress to try to start saving money to start my life over. I remembered how much I enjoyed making the ceramic jewelry in my mother's studio so I started making necklaces and wearing them into work. I had moved into a tiny one-room apartment and I didn't have any space to create. The necklaces were small and I could make them in my mother's backyard ceramic studio. It was perfect. It was during the same time period that I started learning about science and a few months later I found out about the skeptical community. During this educational period in my life I was able to find something that my artwork had been lacking, a purpose and a message.
At work, people fell in love with the jewelry. I had people buy them right off my neck! I literally couldn't make them fast enough. Surly-Ramics was born! Within a few months I had started a new business, one that championed secularism and critical thinking and I no longer needed to wait tables.
I got a second chance.
I now work as an artist full-time. I design jewelry that advocates education and science and that celebrates the brave, emerging society of freethinkers, feminists and humanists that I find myself a part of. It's nice to be able to carry around a small piece of art that represents the rational ideals that are helping to make this world a better place. I try to give back as much as I can to the community that has given me wisdom and so much inspiration to work from and so I use my art to fund-raise for many secular organizations, charities and various grant programs. Every year I use my jewelry to somehow help people or animals in need.
SW: How do your secular and feminist ideals impact how you work and your final products?
ADR: I try to look at the entirety of my jewelry project as activist art. The people that wear my jewelry become active participants in the project.
It's all about the spread of information, learning and the joy of being part of a community of freethinkers. For example, if a person wears a piece with a scientific symbol or a mathematical equation, and a stranger sees it and asks about it, that opens up the door for sharing information and educating the public in unlikely and casual situations. That can have a real impact.
The same goes for the pieces I design that represent feminist and specifically secular or atheist ideals. The realization that your friendly neighbor is an atheist or a feminist and that they cherish those ideals, and wear the symbols in the same way that the religious folks wear crosses or a Star of David, often can have a very real and positive impact. We aren't like what Fox News or Rush Limbaugh wants you to think we are. We are just like you, only we think about things a little bit differently and base our decisions on empirical evidence. And again, it simply opens the doorway to a conversation and allows us to share science-based information. I'm always happiest when someone asks. "What does that symbol mean? Your necklace is lovely, can you tell me about it?"

SW: What are some new designs that you particularly like?
ADR: I have to admit that this time of year I often get sucked into the glory of spring and find myself wanting to paint and draw a lot of flowers but at the same time the re-boot of Cosmos has really got me excited and inspired. I'm really happy with all of my astronomy themed pieces and I have quite a few new pieces in the works.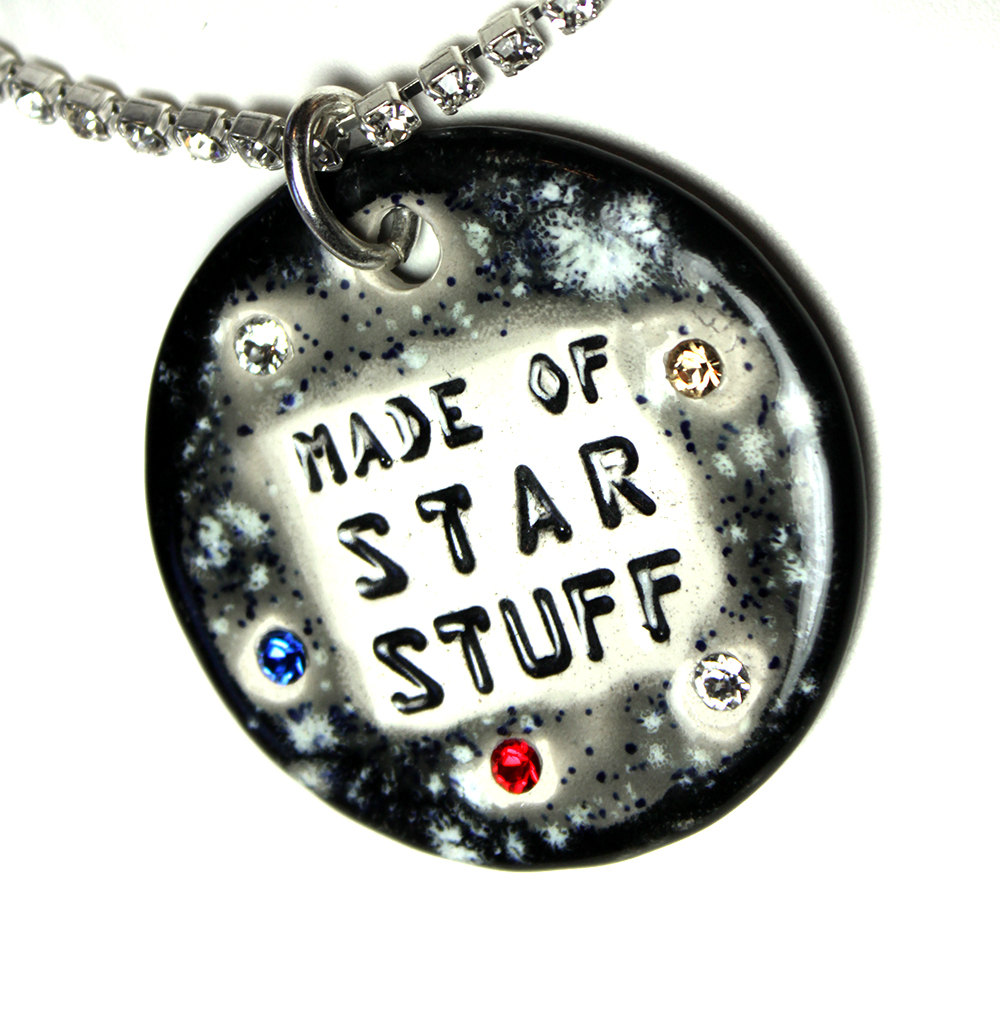 SW: Can you give Secular Woman a sneak peak of what you are bringing to Women in Secularism?
ADR: This year for WiS I created a series of "We Can Do It" necklaces to give as a thank you gift to all of the wonderful speakers and volunteers at this year's event. And I will have a table set up with all of my regular designs as well, so if you are at the event please stop by, take a look and say hello.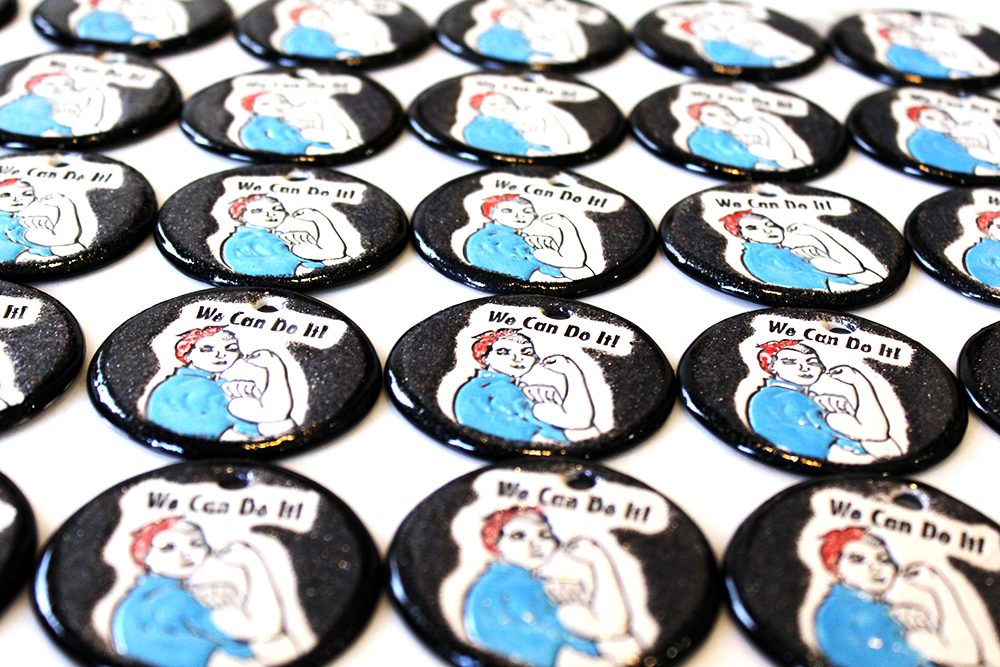 SW: What projects are you working now? How can everyone support them?
ADR: I am happy to say that I am really, very busy these days. I am always working on my jewelry and you can support that project by going to my shop here: https://www.etsy.com/shop/surly
I am also in the process of designing a bunch of space themed paintings for the party room at SkepchickCon. SkepchickCon is what we call the science track at Convergence. Each year Skepchick organized an educational and fun filled science activity track and we have a four night party. This year rhe theme for the party room is 'Space lab" and I am helping with the decorating. More info on that event and info on how I am paying for a few passes for people to attend can be found here: http://skepchick.org/2014/02/i-love-science-at-skepchickcon/
And in very exciting news, I just formed the Los Angeles Women's Atheist and Agnostic Group that will be meeting monthly at CFI West. The group will plan and execute art and activist projects in Los Angeles and be a friendly and safe space for women who are leaving religion and want a support structure. The group is still in it's planning stages but will begin meeting at CFI West the first Tuesday of each month starting in June. And I'm very excited to say that Skepchick and Secular Woman are signed on as official sponsors of the group. We also have our first activist art exhibit planned, but I can't release any info on that just yet. It's still top secret. 😉
I'm also planning on launching a Patreon this summer in the hopes that I can paint some large format paintings that are based on various aspects of science. I have recruited quit a few actual scientists and science communicators to help me insure that I am getting the science "right" in the paintings and that I am sending sending accurate messages. So my art will actually be peer reviewed in a lovely merging of art and science. As soon as I find the time I will launch that.
Speaking of art and science, I am also the managing editor of Mad Art Lab. Mad Art Lab is a sister site on the Skepchick Network and focuses on the intersection of art, science and secularism and there are some brilliant contributors there. Check out http://madartlab.com/ to see for yourself!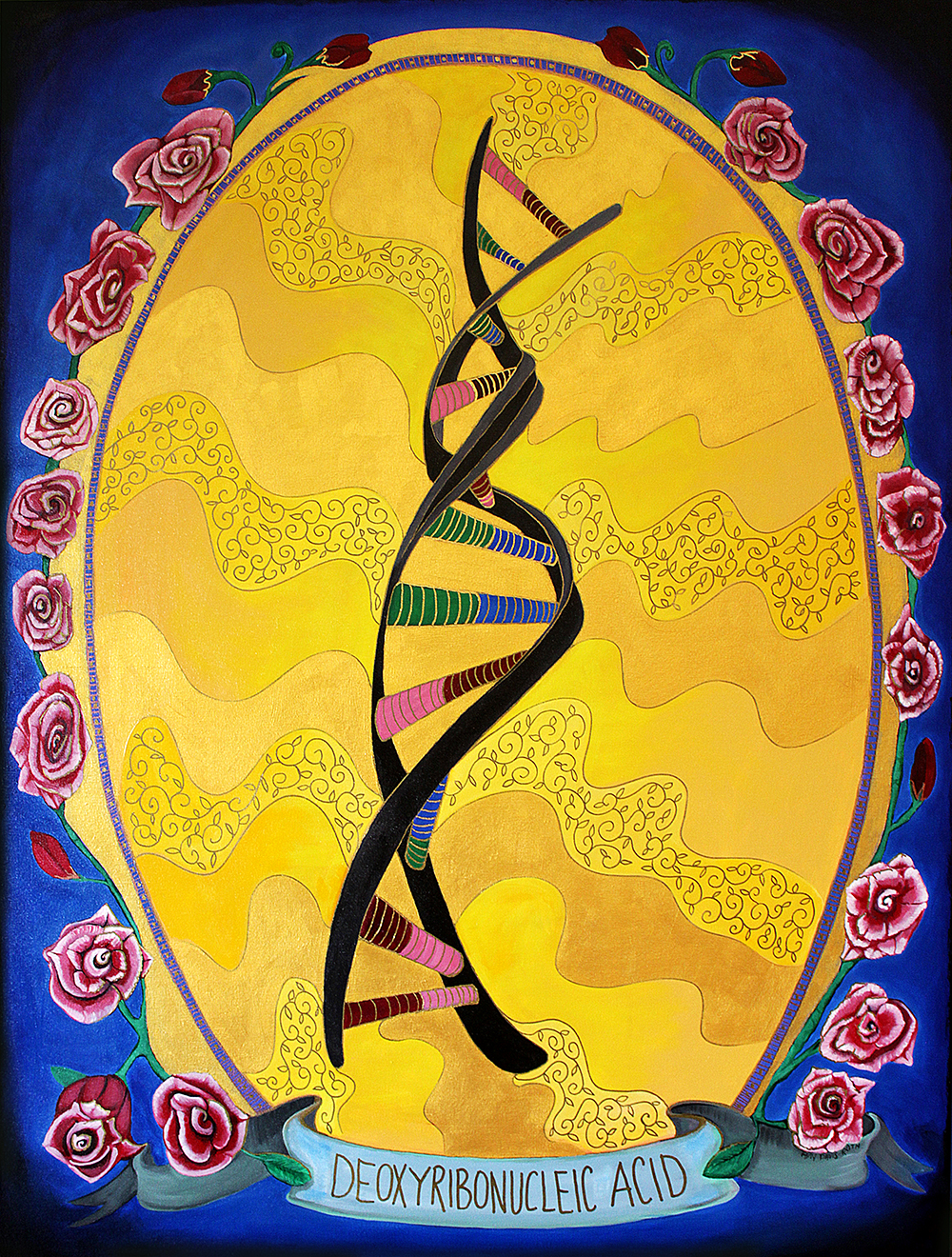 SW: What is the biggest challenge you are facing in the atheist/secular/humanist community?
ADR: Without a doubt, the biggest challenge I have faced is the blatant harassment and bullying that was directed at me because I dared to speak up about sexism in the skeptic and atheist communities. I am obviously not alone in this experience, and have witnessed many other outspoken women with an online presence get attacked and targeted with multiple year campaigns of hate. While this primarily happens online, I have seen it seep into the conference spaces and it certainly affects the targets in their daily lives. It has been a challenge to get the community to take notice and actually do something about it and those who have stood up against online harassment, sexism and bigotry have sometimes experienced significant backlash. Something as simple as creating a code of conduct policy for events has caused an uproar in some cases. I have seen many wonderful women simply leave our communities, just walk away over the past few years, because of the negativity and harassment they have seen. Most leave silently but their absence is certainly noticed. My hope is that organizations like Secular Woman, Skepchick and my new meetup group will create safe and spaces that will empower women and encourage them to want to participate more fully in the secular communities moving forward.
SW: What inspires you?
ADR: Everything inspires me. But my true love will always be the interaction of science and nature and the beauty it reveals.