November 2 is Día de los Muertos, or Day of the Dead. It's celebrated many places around the world in many ways, but I follow the Latin American tradition of creating an altar and decorating it with images and mementos of the departed. Usually it's filled with ofrendas, or offerings, things the deceased will like in order to encourage them to come back and visit for a while.
Now I'm a vocal atheist, a passionate champion for skepticism and critical thinking. I am very lucky that here, in predominately religious Kentucky, I am able to be myself and express myself without fearing repercussions from my employer or coworkers. As Halloween decorations began to go up around our department, I felt perfectly comfortable putting up a Día de los Muertos altar in my cube. And my coworkers, who know me, are completely unsurprised by the sudden appearance of skulls and dancing skeletons – after all, all year they've seen the political sign for Kraken/Cthulhu 2012 (Rebuilding America Together. After We Destroy It.)
What did surprise them was the personal and emotional nature of my altar. Unlike Kraken/Cthulhu, my Day of the Dead altar isn't a joke. I've put up photos of those whose deaths in the past year caused me to stop and say, "Oh, that's a shame," because they were a part of my life in some way – by either inspiring me, or moving me, or entertaining me. Also included is a handmade "autobiography" made by my grandmother – she illustrated it as well. For me the Day of the Dead is a way to bring them back in memory. People come by and ask about those whose photos they don't recognize and I talk about them. For those whose photos they do recognize, they often share a memory of their own.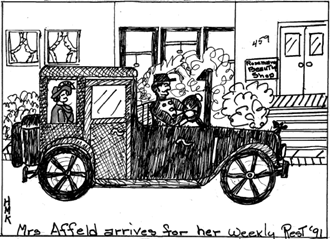 The Day of the Dead is a celebration of life – their lives. I remember — and for someone like me, who doesn't believe in an afterlife, this is the best, closest thing I can offer. As I look at my altar, I'd like to share with you those that are on it. Horshack and Epstein, played by Ron Palillo and Robert Hegyes, were two of the Sweathogs from "Welcome Back, Kotter," and among my earliest crushes. Donna Summer's album, "I Remember Yesterday", was my first 8-track – it's so hard to rewind an 8-track so you can listen and dance to "I Feel Love" over and over and over. The Monkees, with Davy Jones, was one of my favorite shows and I'd record their music from the TV. Other favorites were Hogan's Heroes and Match Game, so Richard Dawson was a familiar sight when my family started watching Family Feud together. Michael Clarke Duncan was a man who made in impression – not for his size, but his presence – it's like he needed to be that big just to contain all that he was. Phyllis Diller was a huge inspiration – you didn't need to be physically pretty to be amazing – a big laugh and a big personality were just as good. Christopher Hitchens, Maurice Sendak, and Ray Bradbury – their writings were all a big part of my life at different times in my life. Junior Seau was the best example of roll model you can ask for in an athlete and he was a local hero to us growing up in Southern California.
Most importantly I'd like to share my grandmother, Harriet Magrath Kacergis. Born in 1914, she was afflicted with polio as a child and lived through the Great Depression and was never, ever a victim of circumstance. Her stories (not an autobiography because she writes, "I'm not that interesting a person, I just lived through interesting times.") are a testament to personal responsibility and overcoming adversity – she was also a die-hard Democrat and Atheist. Some stories are typed, others handwritten, and a precious few are even hand illustrated. The Day of the Dead is a wonderful time for me to bring out her book, reread the stories, share her with others, and welcome her back, for a while, from the dead.
– Secular Woman member Heather Van De Sande