[CONTENT NOTE: misogyny; harassment; rape; rape apologia.]
Richard Dawkins has been keeping himself very busy indeed during his stay as an involuntary organ donor in the Palace Abattoir. In response to a widely-read piece by Mark Oppenheimer about misogyny in the atheoskeptisphere, he has bravely taken to Twitter to defend his BFF Michael Shermer, the notorious subject of multiple accusations of predatory sexual behavior toward women. Shermer's MO, as described in the Oppenheimer piece by TAM staffer Alison Smith, shares most of the typical hallmarks of an overwhelming number of rapists-at-large: boundary testing; planning assaults using sophisticated strategies to isolate victims; deploying psychological manipulation, e.g., power, control; and last but certainly not least, using alcohol deliberately in order to render targets more vulnerable if not outright unconscious. They calculate, quite correctly it turns out, that this particular modus operandi puts them at miniscule risk of ever being accused—let alone reported, investigated, arrested, prosecuted, convicted and jailed. Regardless of whether you believe Smith's or other women's accounts regarding Shermer, these are just facts, and this is how rape culture works in the real world.
But not in Dawkinsland, it doesn't. Nope! Yesterday, in defense of Michael Shermer the Infallible King of Reason tweeted:

Officer, it's not my fault I was drunk driving. You see, somebody got me drunk." –Richard Dawkins
Astute readers will note that this is Richard Dawkins taking Smith's allegations as true, knowing that by all accounts (including his own) Shermer was sober during the alleged incident, and then oh-so-very-cleverly sneering that she is responsible—by likening an alleged rape victim to a drunk driver.
Here's Stephanie Zvan with a nice fisk:
He doesn't appear to believe Shermer's story, which is that Shermer had sex with Smith after she sobered up. Dawkins took Smith's story as read, although he isolated it from Ashley's story and Pamela's.

Then he ignored the parts of that story that make Smith's lack of consent and Shermer's knowledge of it clear. He ignored that Shermer followed Smith away from the party. He ignored the promise to help Smith back to her room, only to end up in Shermer's. Instead, he grasped the fact that Smith was drunk to the point of not remembering parts of the evening and used that to assign responsibility to her. He claimed Smith was responsible for the encounter despite the one fact that both parties agree on being that Shermer was sober.

He believed her story, not Shermer's.

He believed she was intoxicated.

He knew Shermer was not, from all sources of information.

He believed Shermer deceived her in the process of getting her past the point of being able to consent.

Then he tweeted that she was responsible for the encounter.

Then he compared Shermer following Smith away from the party to Smith driving drunk.

Then he compared Shermer taking Smith to a different room than promised to Smith driving drunk.

Then he compared Shermer sexually assaulting Smith to Smith driving drunk.
I'ma say this once more for the cheap seats:
THE ONLY THING A RAPE VICTIM HAS DONE "WRONG" IS TO FIND HERSELF (OR HIMSELF) IN THE PRESENCE OF A RAPIST.
Fortunately, the vast majority of men do not rape. But those who do can always rely on victim-blaming shitweasels like Richard Dawkins to provide comfort and cover, so they can continue to operate unimpeded.
Then the Lord of All Logic tweeted this:

The REAL Rape Culture: "All occurrences of sexual intercourse are rape unless there is certified evidence to the contrary." –Richard Dawkins
No, my precious little cupcake: All occurrences of sexual intercourse are rape unless there is consent. This is really not difficult for most people to grok. And I find it… telling interesting when people are so highly motivated not to grok it. Before he deleted this tweet ("claiming it was sarcastic. There's no word on what part of it he didn't mean, however…"), he responded to a follower concerned that he "might fall in trouble again with Feminists":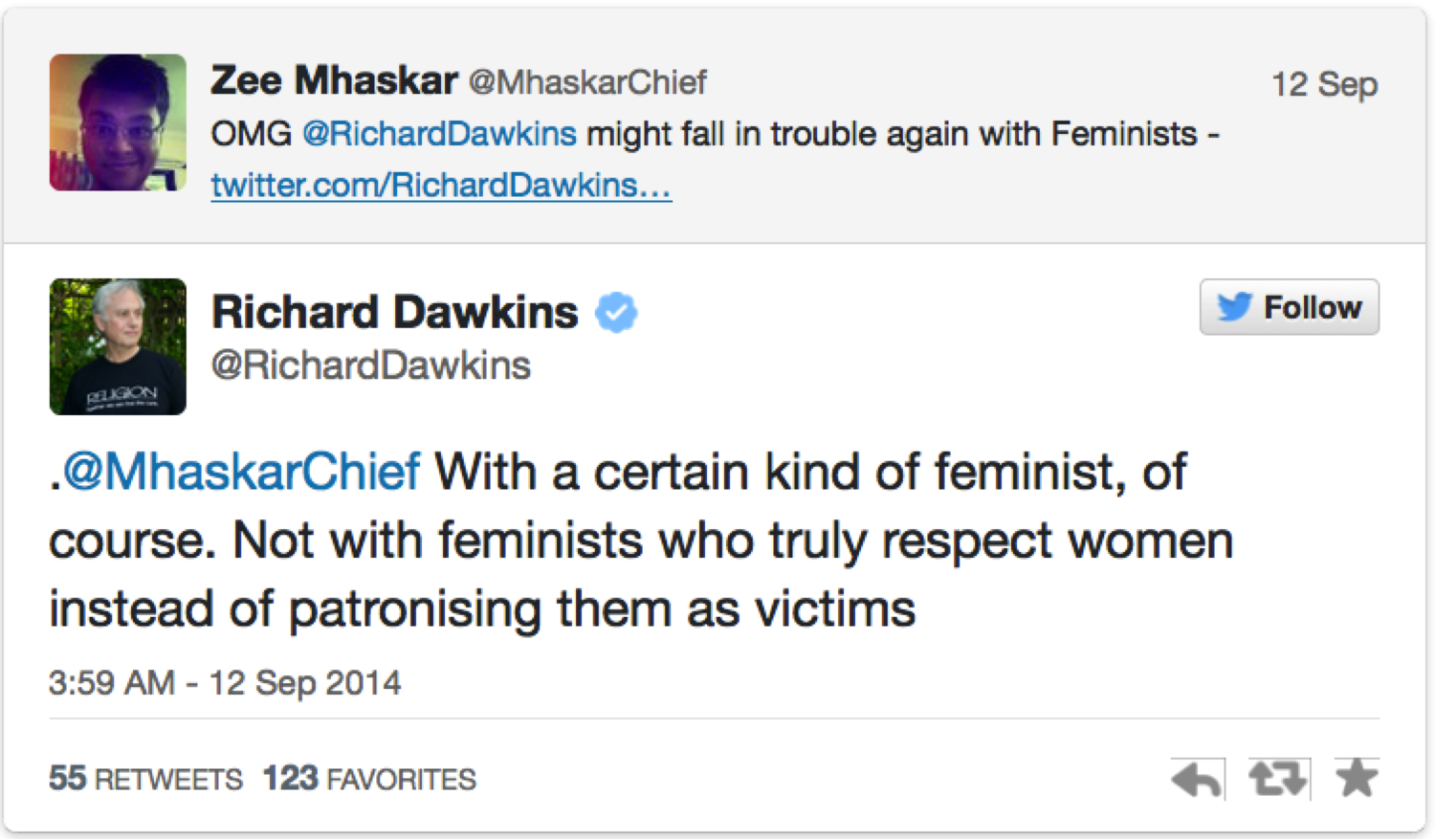 With a certain kind of feminist, of course. Not with feminists who truly respect women instead of patronising them as victims –Richard Dawkins
This one sent PZ off on a righteous rant (which I highly recommend reading in its entirety):
Who are these mysterious patronizing feminists? They don't actually exist. You are echoing a strategy of denial: you approve of feminists, but not the ones who actually point out sexist problems in our culture, or fight against discrimination, or point out that they've been raped, or abused, or cheated in the workplace, or any of the other realities of a sexist culture. This is what anti-feminists say: be quiet about the problems. If you mention the problems, you are perpetuating the sisterhood of oppression, you are playing the martyr, you are being a pathetic victim who must be treated with contempt.

But if no woman speaks out about the problems, how will we ever know to correct them? If we shame every victim for being a victim and daring to reveal her victimhood, it becomes very easy to pretend that there is no oppression.
Oh, silly PZ! You see, in Dawkinsville there are no "victims," only irresponsible drunk drivers crashing themselves willy-nilly right into rapists' penises!
But this morning's tweet absolutely takes the cake: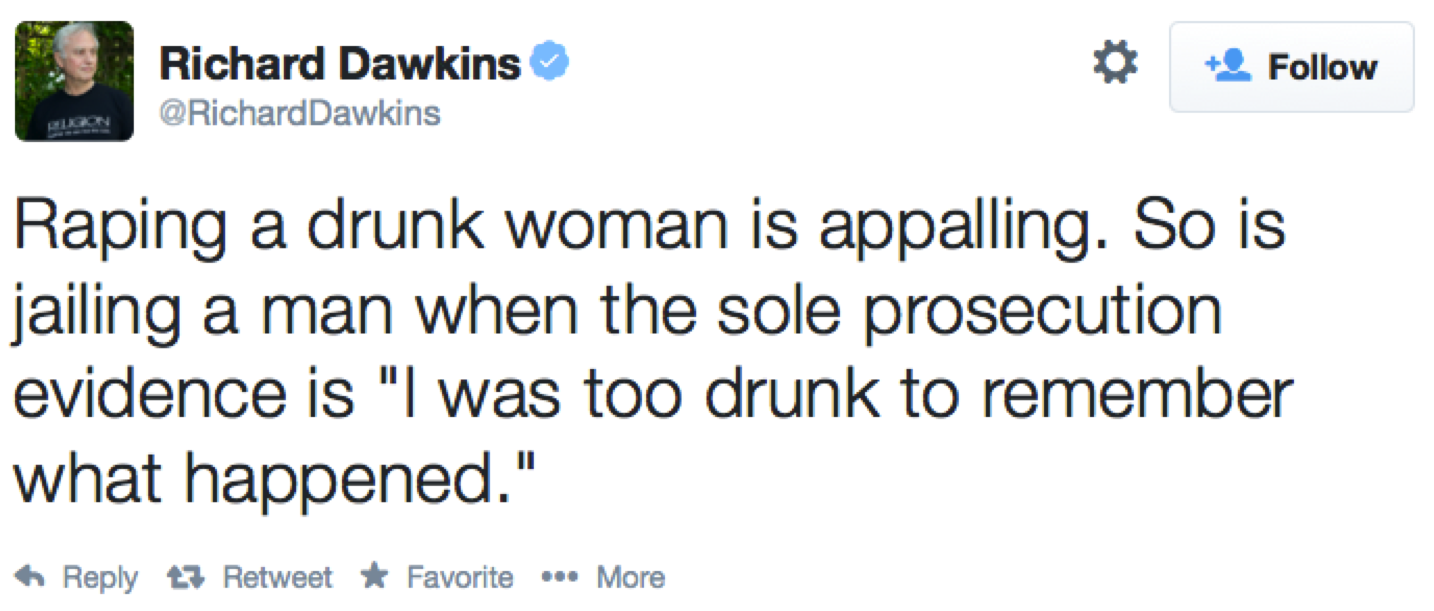 Raping a drunk woman is appalling. So is jailing a man when the sole prosecution evidence is "I was too drunk to remember what happened." –Richard Dawkins
Heh.
Hahaha.
HOLY SHIT HAHAHAHAHAHAHAHAHA!
Now, Twitter is a unique medium with pros and cons like every other; suffice it to say it does not particularly lend itself to schooling pompous assholes on the many wonders of reality. But I did my best: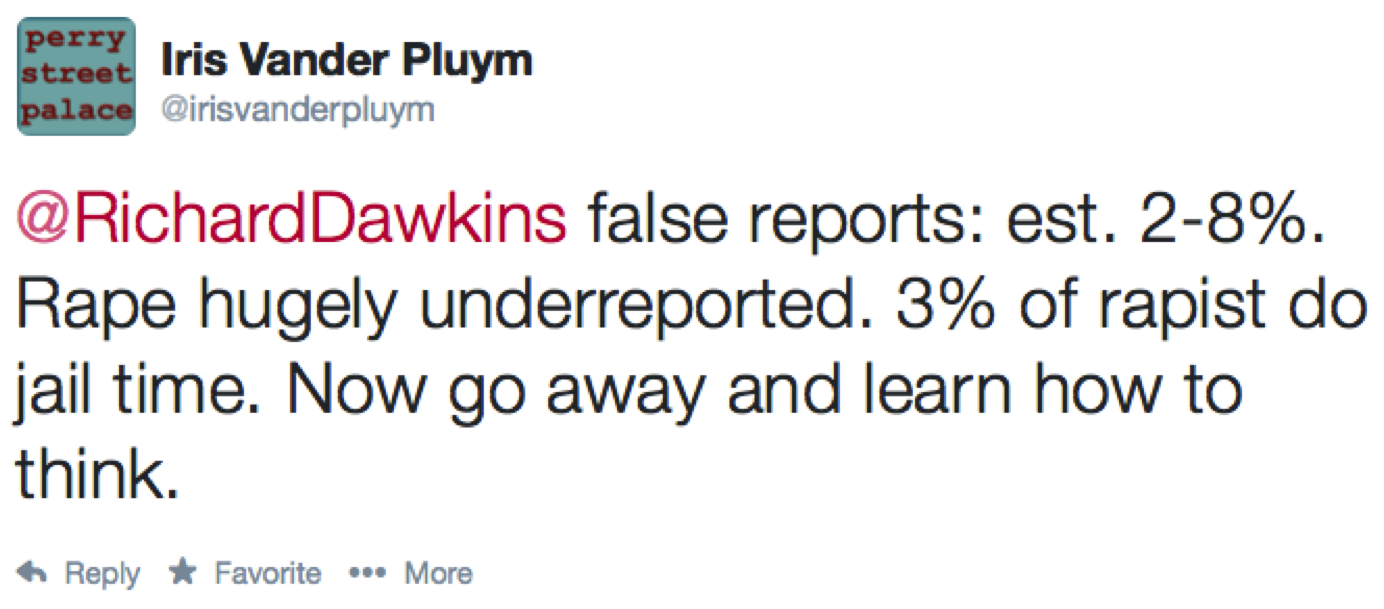 @RichardDawkins false reports: est. 2-8%. Rape hugely underreported. 3% of rapist[s] do jail time. Now go away and learn how to think. –Iris Vander Pluym
(Incidentally, citations for these statistics can be found all over the fucking internet here and here.)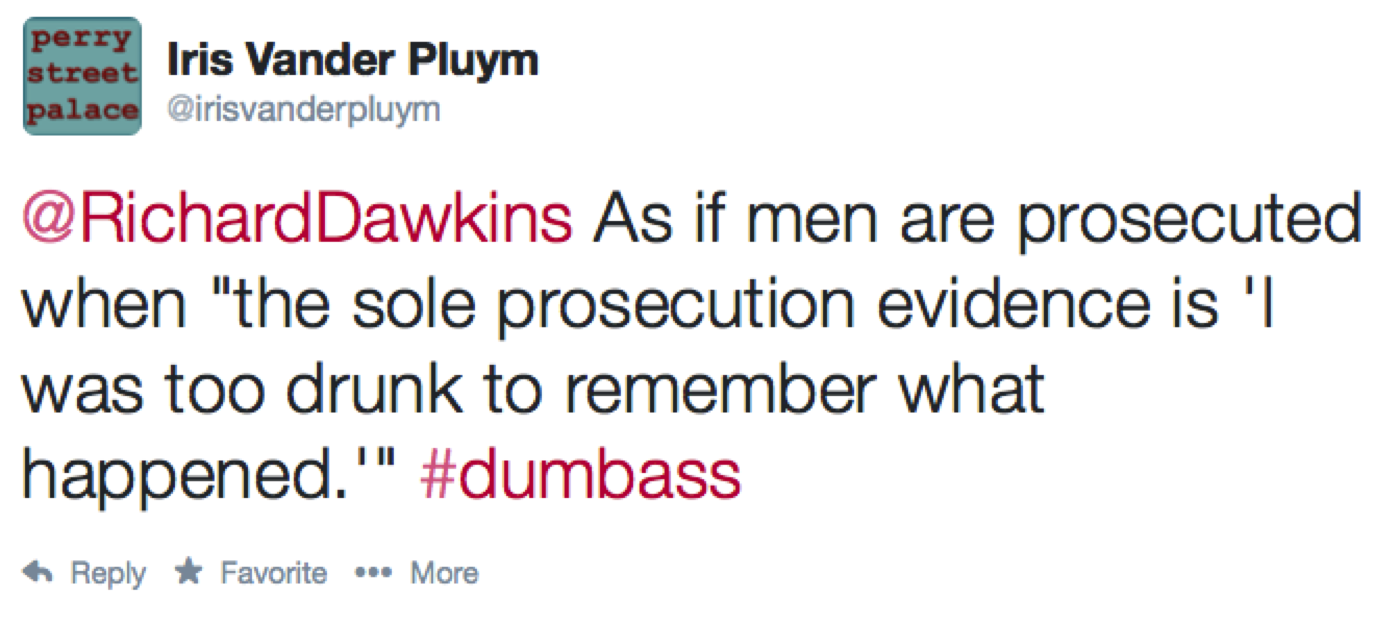 @RichardDawkins As if men are prosecuted when "the sole prosecution evidence is 'I was too drunk to remember what happened.'" #dumbass –Iris Vander Pluym
Jeezus. "I was too drunk to remember what happened" is exculpatory evidence: it creates reasonable doubt and nearly always benefits the accused. That is why prosecutors almost universally do not take such cases to trial: when they do, they lose, and this is true even when they present heaps of additional incriminating evidence to a jury. Seriously, this has got to be the stupidest thing His Intellectual Excellency has ever said—and that is saying something, my friends.
PZ's plea to Dawkins closes:
And could you please stop supporting reactionary anti-feminists? Thanks.
No, he cannot. Because the World's Greatest Rationalist is a reactionary anti-feminist, and thus there is no reasoning with him.
[for Tony.]
[cross-posted at Perry Street Palace.]