FOR IMMEDIATE RELEASE
For more information, please contact:
Kim Rippere, Secular Woman President: 404.669.6727 E-mail
Secular Woman Leadership Expands by Eight
** Information has been editted for privacy concerns **
Atlanta, Georgia – October 23, 2012. Just shy of its three-month birthday, Secular Woman has more than tripled its organizational infrastructure by welcoming four additions to its Board of Directors and establishing a four-member Advisory Council. Other Advisory Council candidates are under consideration and Secular Woman expects to announce a second expansion before the year's end.
Since its June 28th debut, Secular Woman has grown from a four-member Board of Directors to an organization of 800 supporters in nine countries.
President Kim Rippere commented on the rapid pace of development, "We took the strong response to our launch as nothing less than a mandate from secular women and their allies. Our Board felt a responsibility to commit to certain goals and quickly build the capacity needed to achieve them. We set our sights on a fall expansion, wondering if we were being too optimistic about developing the right relationships in such a short time. We needn't have worried — the fertile ground of our supporter base has yielded leadership, quality, expertise and, above all, enthusiasm. We couldn't be more thrilled to be embarking on this next leg of Secular Woman's journey."
Board of Directors Expansion
Joining Ms. Rippere, Brandi Braschler and Mary Ellen Sikes on the Secular Woman Board of Directors are Monette Richards, Elsa Roberts, and Corinne Zimmerman.
Monette Richards recently appeared in None of the Above: Political Implications, a PBS series highlighting campaign activism by the "Nones," or religiously unaffiliated. She is a self-taught information technology professional and lifelong feminist atheist who experienced her first taste of sexism when she had to fight her way into the boys' baseball league at age 11. Ms. Richards helped to organize and film the UniteWomen march this past April in her home state of Ohio. She also volunteers for the ACLU, PPAO, and NARAL. Attending the Center for Inquiry's first Women in Secularism conference in Washington, DC inspired Ms. Richards to become even more involved in community-building among non-religious women. She said, "I am looking forward to adding my enthusiasm and effort to the mission of Secular Woman."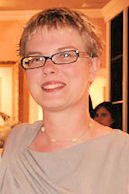 Elsa Roberts is the Program Director at Aqua Foundation for Women, a scholarship and granting body that focuses on the needs of lesbian, bisexual, and trans women. She also volunteers with Planned Parenthood and SAVE Dade, a local organization dedicated to promoting pro-equality candidates, and is a proud member of the ACLU. Ms. Roberts' identity as atheist solidified while attending college at Michigan Tech University, where she graduated with a B.A. in Communication and Cultural Studies. After college she worked with victims of sexual assault, providing crisis counseling, doing educational outreach, and forming Michigan Tech's first peer led crisis response team. Ms. Roberts said, "Secular Woman stands in opposition to the oppressive force of religion, especially the oppressiveness that relates to women. As a woman who is an atheist I find Secular Woman's work to be invaluable and I am proud to be a board member contributing to ending gender based oppression and uplifting women." She makes her home in the Miami area.

Corinne Zimmerman is a professor of psychology at Illinois State University in Normal. She earned her Ph.D. from the University of Alberta in Edmonton, Canada, with a focus on cognitive development, scientific reasoning and literacy, and critical thinking. In addition to her teaching and research, she has been involved in a state-funded project to improve math and science education. Having attained her professional goals, Dr. Zimmerman decided to devote some time to activism, leading her to join and volunteer for Secular Woman. "Secular Woman's mission involves activism aimed at several social justice and human rights issues like feminism, racism, transphobia, and homophobia," she said. "I am happy to now step up from a volunteer position to serve on the Board of Directors."
Advisory Council Launch
Members of the first Secular Woman Advisory Council are charged with providing input and guidance within their areas of expertise to the Board of Directors. The Council's founding advisors are Trinity Aodh, Mary Bellamy, Noelle George, and Melody Hensley.

Trinity Aodh is a young trans woman. Drawing from the unique perspective gained from her position within the queer community, Ms. Aodh advises Secular Woman on trans-inclusive membership strategies, outreach and education. She brings to the Advisory Council a passion for social justice and a positive language-focused brand of activism. Ms. Aodh resides in the United States. [Modified 6/1/13 at Trinity's request.]
Mary Bellamy, a former securities lawyer, was more recently the Counsel and Director of Special Projects of the Secular Coalition for America. Currently, she is the Registrar for Camp Quest Chesapeake, the facilitator of a humanist group at her Unitarian Universalist congregation, and a supporter, volunteer, and fan of many other secular groups. Ms. Bellamy also volunteers in her community as a Board Member and Volunteer Coordinator for Vecinos Unidos, an after school homework assistance program and summer enrichment program for children in a low income neighborhood. The legal and non-profit experience Ms. Bellamy brings to the Advisory Council enriches several of Secular Woman's programming and operational areas. "Secular women, from Madalyn Murray O'Hair to Lori Lipman Brown, have been providing leadership to the secular community in the United States for many years. Now it is time for Secular Woman to amplify all our voices to make sure that we are heard within that community and throughout the land," she said. Ms. Bellamy lives with her family in Northern Virginia.

Noelle George has held leadership roles in the freethought community since 2009, most recently as Operations Manager at Foundation Beyond Belief, a secular charity where she also manages the Volunteers Beyond Belief program. She is a co-host of the Parenting Within Reason podcast sponsored in part by Secular Woman, and is the founder of the 1,300+ member Mothers Beyond Belief group, a private Facebook community intended as an alternative to birth boards loaded with religious posts. Through her professional work as an engineer, Ms. George has gained insights into navigating male-dominated organizations and industries, which she has applied to her work as an atheist and humanist activist. Ms. George's organizing experience and connections within the secular parenting community are helping to shape Secular Woman's outreach to secular families. "Secular families have possibly the most important role of all – shaping future members and leaders of the secular community. I am happy that Secular Woman is committed to creating programs for this important, and often overlooked, demographic within the secular movement," she remarked. Ms. George, a former project manager for the energy industry, lives in Houston with her husband and young daughter.
Melody Hensley is the Executive Director of Center for Inquiry-Washington DC and the organizer of the CFI sponsored Women in Secularism conference. Ms. Hensley has a background in volunteering and community organizing. She has been involved with church-state separation and secular activism, as well as reproductive rights and progressive issues, in the DC area for over a decade. Prior to her latest role, she served as the CFI-DC event and volunteer coordinator. Ms. Hensley's leadership initiating gender dialogue in the secular movement contributes to Secular Woman's mission of expanding opportunity for women in secular identity organizations. She told Secular Woman, "The secular movement has a great challenge ahead. We must commit ourselves to gender equality on every level, from the members that sit on our national secular organizations' boards to those who participate in our meetings and conferences. We must make women's concerns a priority within our community. Secular Woman is at the forefront of this mission and I am proud to be a part of its Advisory Council."
###
Secular Woman is an educational non-profit organization whose mission is to amplify the voice, presence, and influence of non-religious women. For more information about Secular Woman visit: www.SecularWoman.org