Photo of awards by Amy Davis Roth.
Secular Woman would like to recognize individuals, through our awards program, who have shown their commitment to embracing and living the mission and values of our organization in 2014. We believe that the secular community thrives on the passion of people who enthusiastically contribute through their activism. The winners were chosen by a board vote from a pool of nominations submitted by our membership, with the exception of the President's Award given directly by our president Kim Rippere. Awards were created by Amy Davis Roth of Surly Ramics.
President's Award – Melody Hensley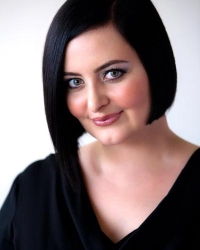 Melody Hensley has been an outspoken involved feminist leader in the atheist movement. She has a long history within the atheist community including creating the first conference devoted to the oppressive nature of religion in women's lives, gender equality in the secular movement, and to celebrate great contributions non-theist women have made to the secular movement.
Via social media she is also open about her life, the challenges she has faced, and the response. Her openness about her mental health has opened doors so that others feel more comfortable talking about their own mental health. Additionally, her views have brought a flood of online harassment. She has been open about that and about how this has impacted her life.
Her ability and desire to continue being a vocal online feminist atheist are truly something to be admired and respected.
Melody Hensley is the Executive Director of CFI–Washington, DC and organizer of the CFI sponsored Women in Secularism national conference. She is also a CFI Certified Secular Celebrant, legally able to officiate weddings without a religious exemption in Washington, DC.
In 2015 Ms. Hensley plans to grow the already vibrant Center for Inquiry–DC community, including such programs as African Americans for Humanism DC and CFI–DC Secular Women. These programs will direct more time to social justice and community service, working with other DC non-profits to fulfilling some the the District's greatest needs: HIV/AIDS prevention, homelessness, poverty, women's reproductive rights, street harassment, and more.
Secular Woman Member of the Year – M.A. Melby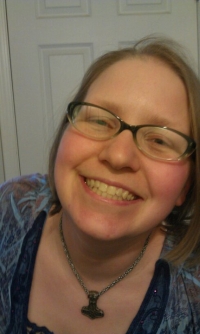 In 2014 Marian was integral in the drafting and circulation of the petition that Secular Woman sent to the Southern Poverty Law Center urging them to list Gender Identity Watch as a hate group. On top of that, Marian is recognized for being an important secular, feminist voice on Twitter. She enters into many heated conversations (many centered around social justice) and always comes out on top without losing her temper or wavering from her funny and caustic stance.
Marian (M.A. Melby) Aanerud is a physics instructor in a health science program in Minnesota and also has an academic background in music. She writes at Transadvocate, Secular Woman Salon, and her personal blog Sinmantyx. She appears as an author in the anthology Atheist Voices of Minnesota. She often can be found on twitter.

Blog of the Year – Brute Reason by Miri Mogilevsky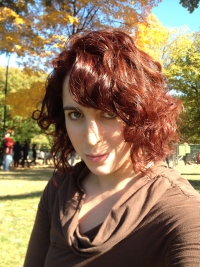 Miri's blog deals with some very tough subjects with a direct and wonderful voice that never seems to waver. With the myriad of topics covered at Brute Reason there is always a new bit of information to learn.
Miri is a writer and social work student in New York City. Her blog, Brute Reason, covers topics such as mental health, psychology, and social justice. She also contributes to the Daily Dot and rants on Tumblr. When not writing or studying, Miri volunteers for a sexual assault hotline and takes excessive photos of NYC. When she grows up, she wants to be a therapist and have a slightly nicer apartment.

Woman of the Year – Rebecca Watson
Rebecca Watson was chosen as Secular Woman of the Year for being a strong role model for secular women while continuing to provide quality, educational and entertaining content despite years of constant harassment. She has also provided a platform for many women to get their start as journalists and activists by giving them the opportunity to write for the Skepchick Network. Currently the Skepchick network has around 100 contributors from across the globe. Many of Rebecca's talks and articles are focused on pseudoscience directed at women. Her voice has been paramount in helping women navigate information about health and sexuality.
Rebecca Watson is the founder of the Skepchick Network, a collection of sites focused on science and critical thinking with dozens of contributors spanning four languages. She has written for outlets such as Slate, Popular Science, and the Committee for Skeptical Inquiry. She's also the host of Quiz-o-Tron, a rowdy, live quiz show that pits scientists against comedians. Asteroid 153289 Rebeccawatson is named after her (her real name being 153289).
Activist of the Year – Sarah Kaiser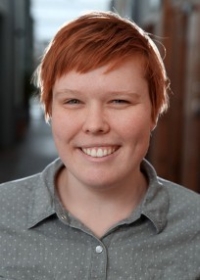 Sarah is a coordinator of the Freethought Books Project at CFI. From their site, "The Freethought Books Project provides donations of secular and freethinking literature to prisoners, inmates in mental hospitals, books to prisoners projects, and others in need. The project also connects inmates to volunteer pen pals, who correspond with secular humanist, atheist, and other inmates who are connected to the project." We feel that Sarah's work in helping folks obtain the secular reading materials they crave is extremely valuable. Many times in prisons the reading materials default to that of a religious majority. Those who are incarcerated should have the right to continue their journey of exploring secular values and ideas. Sarah makes that happen and that is why she deserves to be recognized for this activist action.

Man of the Year – Muhammad Syed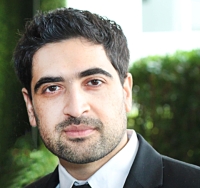 As co-founder of Ex-Muslims of North America we chose Muhammad Syed as Man of the Year for his dedication to providing a space for ex-Muslims while ensuring the inclusion of ex-Muslim women in the organization as well as helping to expose discrimination women face in Islam.
Muhammad is a co-founder of Ex-Muslims of North America, where he currently works as the Executive Director. He is a public speaker, writer, and community organizer. Muhammad has been a human rights activist for the past decade, and now focuses on promoting acceptance of secularism in Muslim communities as well as working on amplifying the voice of Ex-Muslims globally, as a conscientious voice for change. Muhammad is a software engineer by trade, and leverages his expertise for the technical needs of EXMNA.